The Met Gala may look like just another excuse for celebrities to dress up and make us feel like plebs; but in reality, it's a fundraiser for the Metropolitan Museum of Art's Costume Institute in New York City which celebrates the grand opening of the Institute's annual fashion exhibition. First held in 1948, the dress code follows each year's exhibition theme, with previous concepts including Cubism and Fashion (1998), Jacqueline Kennedy: The White House Years (2001), and Punk: Chaos to Couture (2013).
Co-chaired by Amal Clooney, Rihanna and Donatella Versace, this year's theme was Heavenly Bodies: Fashion and the Catholic Imagination. Expectations were set high for looks that would be everything from awe-inspiring to sacrilegious, and whilst many attendees shot for the stars, not all succeeded.
Those Who Slayed The Theme
The winners of the night were those who were able to marry their aesthetic with the actual theme – that is, drawing inspiration from the ornate grandeur of Catholicism and its rituals, garments and places of worship.
Blake Lively's gorgeous Versace gown was a perfect example; with the bodice alone being a 600-hour-long labour of love. Versace continued to slay the game with Zendaya's Joan of Arc-inspired gown, and Chadwick Boseman's ornate, priestly take on a white cape-suit. Boseman was one of the few men who weren't afraid to step away from a plain old tux, with another highlight being Troye Sivan's blood-red Valentino ensemble.
Lana Del Rey and Jared Leto appeared in Gucci alongside it's creative director, Alessandro Michele, with all three representing a star-studded Holy Trinity; and Lily Collins was another highlight with her abstract priestly Givenchy gown and her stunning, gothic makeup.
Special mention also goes to Lena Waithe, whose rainbow flag Carolina Herrera look validated queer bodies as being "heavenly" in their own way; and Frances McDormand, who was in a universe of her own as she strutted the runway in Valentino with her on-brand eclectic style.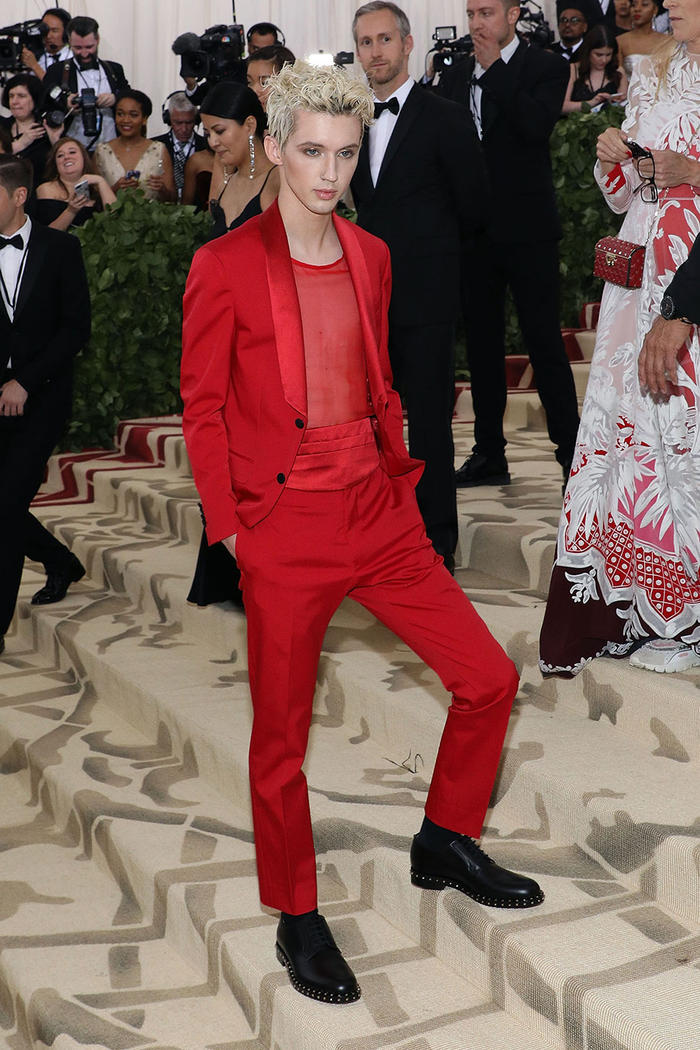 Those Who Swung and Missed
Misha Nonoo's odd, Elizabethan-esque collar was a no-no of itself; and whilst we wanted to love Greta Gerwig's vicar-like gown, in execution, it seemed to resemble a puffy doona cover belted at the waist. Solange Knowles looked theme-perfect from the neck up; but the gown was a little too "Ursula in the Little Mermaid".
The Met Gala is usually an opportunity to ignore the rule of "less is more", but some celebs got in over their heads – Katy Perry's concept appeared chaotic rather than angelic; Sarah Jessica Parker's gown and headpiece could only flatter a museum mannequin; and Cardi B and Jeremy Scott took Catholic-inspired grandeur to an unholy level.
Those who slapped on a cross and called it a day
Yeah, it's self-explanatory – these celebs apparently decided that wearing a nice suit or gown was good enough to fit the brief, as long as a cross or two were plastered on. Catholic, maybe. Imagination? No way.
Those Who Didn't Even Read The Brief
Um, did these stars forget that the Met Ball is themed? Because they seemed to make no effort to incorporate any Catholic elements at all.
Karlie Kloss, Fei Fei Sun, Zoë Kravitz and Mica Arganaraz all disappointed on the night – sorry, ladies, but a little black dress doesn't cut it on this occasion.
Kendall Jenner was another major disappointment, with her plain jumpsuit being a complete thematic miss; although some have argued that she was inspired by a Catholic Eucharistic wafer – plain, bland and white.
Those Whose Looks Were Far From Heavenly
They may be stars, but they couldn't be further from heaven – these looks wouldn't have been up to scratch on any red carpet, let alone the Met.
From Phoebe Waller-Bridge's strange, fluff-trimmed Christopher Kane gown, to Claire Danes' unflattering and theme-less Marni dress, there was no shortage of looks that fell short of the mark.
Jennifer Connelly, in Louis Vuitton, appeared to be wearing two dresses accidentally spliced together. Selena Gomez was a mess from head to toe; from her shabby-not-chic hairdo, to her unflattering makeup and Coach dress, to her year-10-formal-level-orange fake tan.