The upcoming National Indigenous NAIDOC Art Fair is set to present the ideal introduction to this year's NAIDOC week commencing on July 1. Indigenous Australian artists from 20 remote communities will be making the journey to Sydney, where their diverse artwork will be showcased and sold at a market situated within Sydney's Overseas Passenger Terminal. Ranging from art, jewellery, gifts, homewares and Indigenous food and beverages, the 30 stalls are a thriving sample of Indigenous Australian artistic diversity.
Tangentyere Arts Centre in Alice Springs is one Indigenous Australian arts centre featuring in the NAIDOC Art Fair that cultivates a particularly diverse collection of artworks. The variety of painting styles is one thing that Tangentyere Arts Centre gallery manager, Terazita Turner-Young prides the centre on.
"The first thing I say about our arts centre to every customer is that we are a diverse arts centre which includes artists from all over Central Australia," Turner-Young said, "We work hard to combine figurative, traditional and narrative style paintings in the one gallery space."
Artistic diversity is not confined to Tangentyere Arts Centre's collection of works. The wide variety of art mediums and styles presented by Alice Spring arts centres, Yarrenyty Arltere artists and Ewyenper Atwatye artists, certainly challenges any potentially monolithic pre-conceptions of Indigenous Australian art. Yarrenyty Arltere artists will showcase their uniquely handcrafted jewellery and soft sculpture works, whilst Ewyenper Atwatye artists' specially-designed homewares and screen-printed clothing will be up for sale.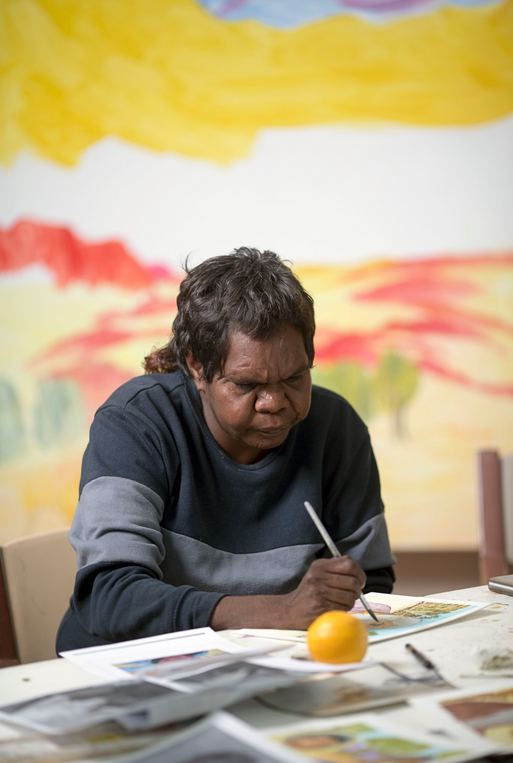 The NAIDOC Art Fair presents vital exposure for remote Indigenous Australian artists to promote their diversely talented work. Turner-Young acknowledged how the opportunity for the artists to showcase their work in a city centre, therefore enables a much wider reach for "educating people about Indigenous art and culture."
In fact, many of the artists in Tangentyere Arts Centre moved to Alice Springs from more remote neighbouring communities, to access better health or education facilities. Turner-Young described how Tangentyere Arts Centre becomes like a second home for these artists, where they can enjoy making art in a vibrant community space and acquire any necessary financial support.
"All of the artists that come through have a strong sense of ownership over the arts centre, and those who return to their original communities often come back to visit," Turner-Young said.
The Sydney showcase therefore subverts any economic barriers for remote artists, as the fair is presented by Blak Markets, a social enterprise arm of First Hand Solutions, which ensures all sales go directly to Indigenous Australian stallholders and their art centres. Turner-Young said, "The fair provides a really valuable opportunity for artists to benefit from international tourism and more customers, and the sales make a really big difference to our artists." The Art Fair also fosters broader art industry connections that are more limited in remote Indigenous Australian communities, as Turner-Young acknowledges from her own experience last year meeting the assistant curator of Aboriginal and Torres Strait Islander at the Art Gallery of NSW, Coby Edgar.
Also exciting to Turner-Young and the Tangentyere Arts Centre is this year's NAIDOC Art Fair theme: Because of Her, We Can! As a predominantly female arts centre, Turner-Young expressed how it is a theme that "really resonates with our arts centre and represents all our female artists." To celebrate this year's theme, the NAIDOC Art Fair will showcase an all-female line-up of live music which will include Triple J Unearthed High Indigenous Initiative's 2017 winner, Rebecca Hatch.
The NAIDOC Art Fair will be held from June 30 to July 1 at Sydney's Overseas Passenger Terminal, and is entirely free. For more information, visit www.blakmarkets.com