"The Ibis represents the everyman in all of us"
Frida Las Vegas rocks up to the Kings Cross Hotel in a t-shirt dress featuring her bold and bright Sydney Fringe print, plastered with Ibises, one-way signs, cockatoos and American Excess cards. A pair of lime green PVC boots reach all the way to her thighs, the hue perfectly coordinated with her sparkly eyeshadow. After a photoshoot with the other faces of Sydney Fringe, where she effortlessly strikes pose after pose, we sit down for a chat - peeling away some of the Frida pseudonym and revealing Stavroula Adameitis; an Adelaide-born artist and designer who seeks out the beauty in the unloved, and aims to celebrate Australian culture with as much fun and colour as possible.
BYO: How would you explain your particular personal brand, as an artist?
Frida: I like to think that my work is a mix of Fran Drescher and Ken Done - somewhere in between. I'm really attracted to pop art, shapes, colors, symbology, linework - it just makes me feel really happy, and I think working with like a really bright color palette is something that a lot of people can connect with. Really, my personal brand is me: although my art pseudonym is Frida Las Vegas, it's basically just Stavroula Adameitis. I love things that are funny. I love things that are trashy. There's a lot to not be proud of, or happy with, in this world; but I personally like to focus on things that I'm not seeing represented anywhere else. I love things that are glamorous, ridiculous, suburban, things that might not be loved; things that often get overlooked as having any sort of aesthetic value. Generally those things in the world are like my artistic children.
BYO: How long did it take you to come to this stage and be secure in that identity?
Frida: When I was growing up in the early 2000s, I felt like the culture was really strongly American-based: a lot of my friends were moving to America, the UK. Moving to London is like a rite of passage for most Australians! I worked in America with Patricia Field, the costume designer for Sex And The City, and I went to London and I interned with Super Super magazine. I saw what was happening in New York and London and I thought well, wouldn't it be amazing if everyone who took their ideas and their cultural capital from Australia, stayed in Australia, and created something here? What kind of a cultural landscape could we make together? What would be possible? So when I started making art under the Frida Las Vegas label, I just thought, I'm going to be proud to be Australian! To be working in Sydney, and to be really unabashed and shameless about it; and not try and pretend that I'm from America or go for an American audience. It was more so about how I could I tap into symbology that makes Australians smile.
BYO: Would you say that's inspired a lot of this Sydney fringe print then?
Frida: Absolutely. When I was thinking about the print, I wanted it to be something that didn't have the Harbour Bridge on it - as much as I love the coat hanger, I feel like it's been done! I'm really interested in celebrating the the dirty Ibis bird, which is much maligned. The Ibis inspires so much revulsion in Sydney, but I think it's incredible! I grew up in Adelaide, and so when I'd come here on holidays as a kid, I'd see the Ibis floating around Hyde Park, and I remember thinking to myself - "what is this majestic, flamingo-like bird that is just everywhere?" People were just chasing the birds away, and I'm like - hey, they're just as much a part of the city as the Bridge and the Opera House are! Ibises are Australian natives, and they've sort of made Sydney their habitat, because humans have pushed their natural wetland habitat out. I like the story of the Ibises being this symbol of resistance and survival; thriving amongst very trying and problematic circumstances. I think that's how I feel living in Sydney at the moment! So that's why the Ibis is my unofficial mascot - even though a lot of people think that they're dirty, disgusting creatures; I feel that they represent the everyman in all of us.
BYO: Your personal style and sense of fashion is clearly very bold, and a bit "out there" - it's amazing, I love it! Have you always been interested in bold fashion statements?
Frida: Yes, absolutely! My personal style has just always been with me, I don't know where it came from. I remember I didn't have to wear a uniform at my primary school, although everyone wore sort of muted navy blue school colours anyway. But I had this amazing jumper that had 80s Barbie on the front, and she had a dangly earring that was sewn onto the outside of the jumper - it was amazing, and I loved it, and I wore it to school photo day. And a girl in my class teased me about it, like "how dare you wear the Barbie jumper, this is school, this isn't a fashion parade!" And even as a five year old, I was like - "but life IS a fashion parade!" I was a very sensitive little kid, so I started crying. My teacher saw what happened, and she said to the girl, "you have no right to tell someone off for what they're wearing. If Stav wants to wear pink to a school photo, that's her choice" - and I think she just gave me all the enabling that I needed. Ever since then, I was like - nope! I don't care if people think I'm at a costume party! It doesn't really matter what other people think, it's how I express myself, and that's more important really.
BYO: What advice would you give to someone who's wanting to branch out with their fashion?
Frida: No one cares as much as you think they care. If you feel self-conscious, but you'd like to start dressing a little bit more out there - whether it's period-inspired clothing, or bright colours - generally, people don't give a shit! If anything, it brightens up their day, and people are in awe of that bravery! Fashion is an expression of personality, of politics, of identity - it's an incredible arena that isn't really given the time of day, I think. And as a signifier of our internal worlds; fashion is an expression of who you are inside - just on the outside! You really don't need a lot of money in order to embrace that, either - op shops are just teeming with incredible clothes that are relatively affordable. And you can start off with a hat, or a watch, or a bright-coloured pair of shoes - and then it's a slippery slope to like, thigh-high PVC boots. Once you try it, in my case, you just get addicted and you want more! More colour, more sass!
BYO: Collaborating with Sydney Fringe is a pretty awesome opportunity - what are some other great opportunities have you had in the past?
Frida: At the beginning of the year, I was approached by a hotel in Ibiza, believe it or not! It's called the Art Paradiso Hotel, and they now have a Frida Las Vegas suite! I was commissioned to make an artwork for the room in the style of Miami Modern - so a mix of the 1980s and art deco architecture and interior design. That was a bloody dream come true. It was very flattering to have an international company approach me and want my sort of Australian, art deco, 80s, pop vibe in their business! That was very humbling.
I also work a lot with a Sydney-based, demi-couture fashion house called Nicol & Ford, and we've collaborated before. We worked together in the construction of the outfits that you see in the Fringe campaign imagery. I designed the print, and Nicol & Ford constructed and designed the outfits. So that's a collaboration I'm very proud of; working with two incredible local Sydney fashion designers.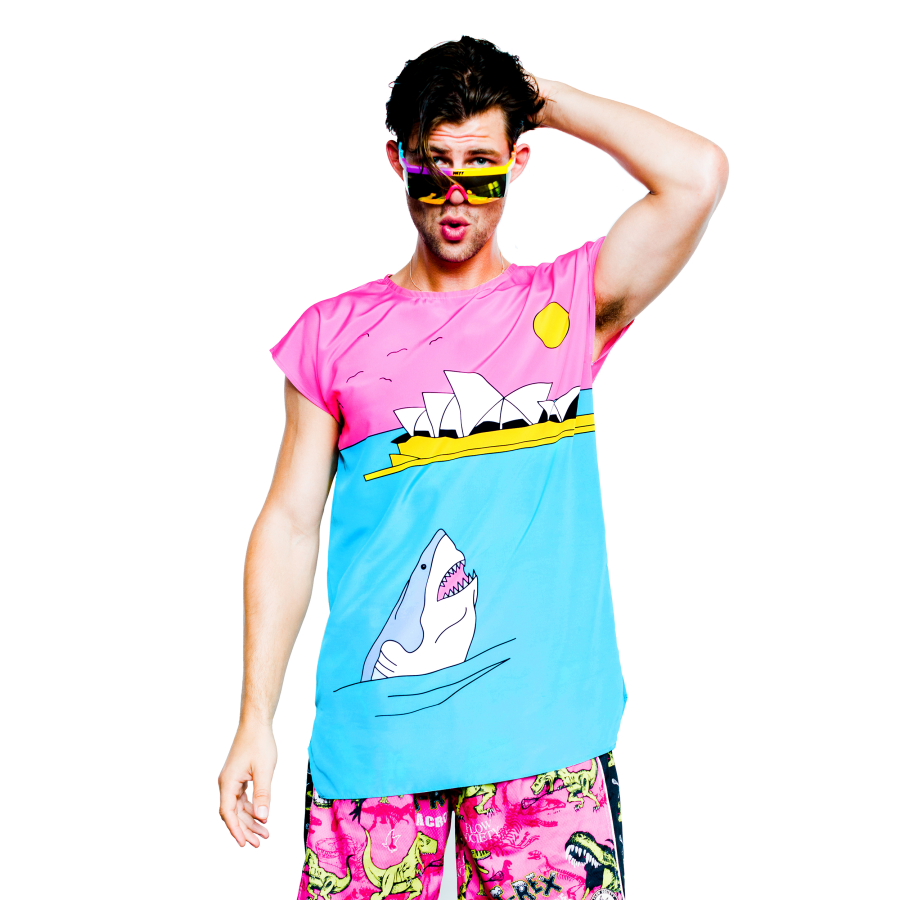 BYO: What is it that made you excited to collaborate with Sydney Fringe - is there something particular that you're drawn to?
Frida: I think it's really great that Sydney Fringe is bringing artists and performers together; offering them support with venues, and generally positively contributing to the city's theatrical identity - which is in need of so much love and support! I think that for a lot of artists, finding spaces and venues and organisations that actively support them can be really challenging. Sydney is host to so many large-scale, world-class venues, à la the Opera House - but there's a long journey from someone's first gig as a playwright, as a dancer, as an acrobat. It's having those spaces that promote performance culture along the way, that aren't necessarily on the scale of the Opera House. They allow people to hone their craft. Artists can practice, find out what works; navigate the minefield that is not only making of art, but marketing, distribution, admin - the stuff that no one wants to do, but we have to do. And that's another positive aspect of Fringe having such a strong presence in Sydney. So it's really important that Sydney Fringe are using their resources, their connections, their infrastructure, to help make Sydney's arts scene thrive again.